Now Only $49.99 Per Month!
The Faster You Sell Your House, The Less You Pay!

We are a local Long Island NY Real Estate Broker Office.
Since 2004 we have been offering Long Island home sellers the option to list their home on the Long Island Multiple Listing Service (MLS / MLSLI) for a flat fee.  For the homeowner who wants to "do it themselves" and save on paying real estate commissions, our flat fee service to get on MLSLI.com has proved to be invaluable to "for sale by owners" or FSBO.
We service Nassau, Suffolk and Queens.
Sell your home yourself with a flat fee & pay NO Commission to anyone! Save the 4%-6% commission.
Your home is listed on the MLS, MLSLI.com, Realtor, Trulia, Zillow and all other websites for up to 1 year. You can Cancel at anytime.
Your house is added to the MLS within 24 hours (once all paperwork and photos are received).
We can list Residential 1-4 family Homes, Condos, Co-Ops, HOA, and Land with our flat fee listing.
FREE Changes to your flat fee listing anytime. (Open houses, photo's, descriptions, price).
Realtors call you directly to make appointments.
Professional Realtor yard sign.
State of the art lockbox.
Up to 20 photos listed on the MLS.
All legal disclosures and paperwork provided.
We guide you through negotiation, contracts and closing. We are local not like many other flat fee services who are out of state.
You determine the commission to the selling agent if an agent sells your home (min 1.5%, the normal is 2%).
FREE MLS flyers for your open houses or to just hand out.
Buyer leads from our advertising (MLS, ads, websites, phone calls) are forwarded to you through our automated system.
Buyer leads from your open houses, signs, ads, personal website, etc…, are your leads and if you negotiate a deal, you pay no commission, only the flat fee to list your property.
You show your property and host your own open houses.  You will set your own appointments with buyers and/or their agents at your convenience.
And More!  See our Frequently Asked Questions
Now get weekly stats of your listing sent right to your email every Monday. Get the number of Views, Visitors, Most Active Similar Homes, Inquiries, Social Media Shares and Viewing Duration.  All this info is sent in a nice .pdf report straight to your inbox.  List your home today!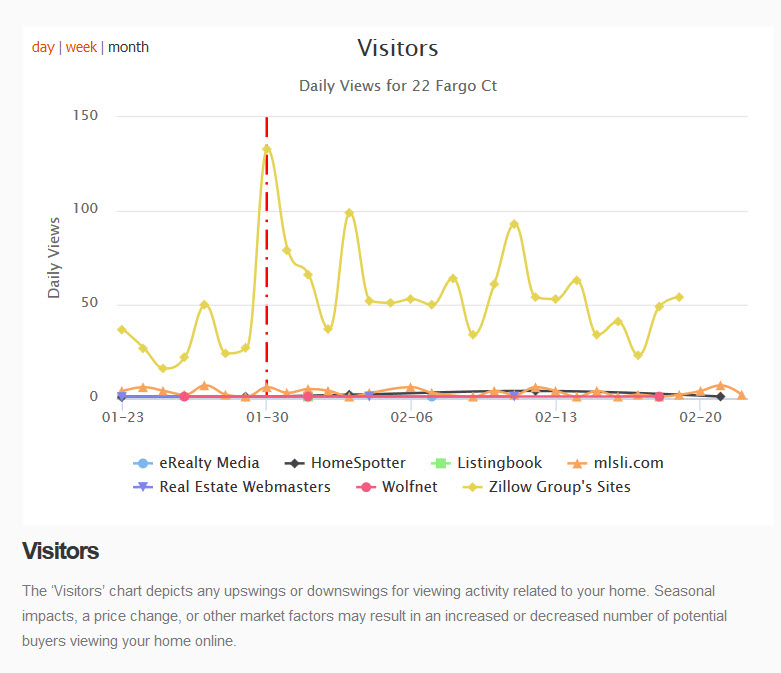 When you list your house for sale on the Long Island Multiple Listing Service or MLSLI whether through a full service listing or a flat fee listing, your home listing gets syndicated through something called the IDX or Internet Data Exchange.  In order for other real estate agents and brokers to display listings on their website, they have to participate in their local IDX real estate exchange.  By agreeing to the terms of the MLS IDX, houses listed in the Long Island Multiple Service are shown on all real estate agents and brokers websites through the syndication of this IDX network. By choosing to list your home through a flat fee listing, your home will show up on thousands of real estate agents and brokers websites that participate in the IDX Exchange.  Your home also gets syndicated through national websites such as Realtor.com, Trulia, Zillow and more.  You can see more websites on the image on the left.  That is why a flat rate listing on the MLS is so beneficial to home sellers.  Choosing a local Long Island flat fee realty and the right flat fee real estate broker is critical to selling your house. Joelle Coughlin Long Island flat fee realty llc
What Are You Waiting For?
A Potential Buyer Could Be Looking For Your Home Right Now!